Mother Teresa: No Greater Love
()
CHOOSE LOCATION:
Monday, October 3
Reserved Seating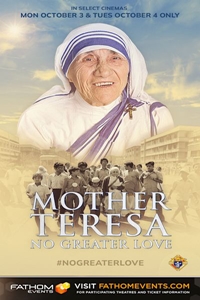 Mother Teresa: No Greater Love
()
Directed By: David Naglieri
Genre: Program, Documentary
Run Time: 1 hr. 55 min.
Twenty-five years have passed since the death of Mother Teresa of Calcutta, sparking a renewed interest in this spiritual giant of the 20th century. Filmed on 5 continents and featuring unprecedented access to both institutional archives and the apostolates of the Missionaries of Charity, this film reveals not just who Mother Teresa was, but how her singular vision to serve Christ in the poor continues to be realized through the Missionaries of Charity today.