Patterns of Evidence: Journey to Mount Sinai
(PG-13)
CHOOSE LOCATION:
No showtimes available
on this date.
No showtimes available
on this date.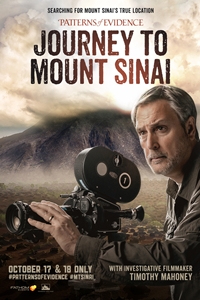 Patterns of Evidence: Journey to Mount Sinai
(PG-13)
Directed By: Timothy Mahoney
Genre: Documentary , Program
Run Time: 2 hr. 30 min.
Join investigative filmmaker Timothy Mahoney in his next leg of the Patterns of Evidence adventure as he looks for physical evidence of the Exodus journey to Mt Sinai. Did this biblical event really happen as written in the Bible? Some experts say not, yet Exodus Explorers claim they have found physical evidence to support one of the greatest events recorded in the Bible. The Journey to Mount Sinai is the first in a two-film investigation following the Israelite's journey from the parting of the sea to the mountain. Many different mountains have been proposed as the true location of Mount Sinai. In the investigation, Mahoney will look at biblical, geographical, and archaeological information pointing to clues as to the real location of the mountain. Can we find this mountain where Moses encountered a burning bush and heard the voice of God commanding him to return with the Israelites?