CHOOSE LOCATION:
No showtimes available
on this date.
No showtimes available
on this date.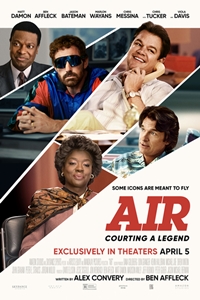 Starring: Matt Damon, Ben Affleck, Viola Davis, Jason Bateman, Marlon Wayans
Directed By: Ben Affleck
Genre: Drama
Run Time: 1 hr. 52 min.
From award-winning director Ben Affleck, AIR reveals the unbelievable game-changing partnership between a then rookie Michael Jordan and Nike's fledgling basketball division which revolutionized the world of sports and contemporary culture with the Air Jordan brand. This moving story follows the career-defining gamble of an unconventional team with everything on the line, the uncompromising vision of a mother who knows the worth of her son's immense talent, and the basketball phenom who would become the greatest of all time.