Roman Holiday 70th Anniversary
(PG)
CHOOSE LOCATION:
No showtimes available
on this date.
No showtimes available
on this date.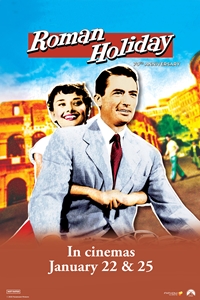 Roman Holiday 70th Anniversary
(PG)
Starring: Gregory Peck, Audrey Hepburn
Directed By: William Wyler
Genre: Comedy , Romance
Run Time: 2 hr. 8 min.
Celebrating 70 years - remastered from a 4K film transfer - ROMAN HOLIDAY features a legendary, Oscar-winning performance from Audrey Hepburn (in her first starring role). Nominated for a total of 10 Oscars, including Best Picture, it's the story of a modern-day princess who, rebelling against the royal obligations, explores Rome on her own. She soon meets an American newspaperman (Gregory Peck) who pretends ignorance of her true identity, in the hopes of obtaining an exclusive story. Naturally, his plan falters as they inevitably fall in love. Featuring Eddie Albert as a carefree cameraman pal, a classic Dalton Trumbo screenplay, expert direction from William Wyler, and featuring Edith Head's Oscar-winning costumes, it's a timeless romantic comedy considered to be one of the greatest films from the Golden Age of Hollywood.