A Christmas Story 40th Anniversary
(PG)
CHOOSE LOCATION:
Sunday, December 10
Reserved Seating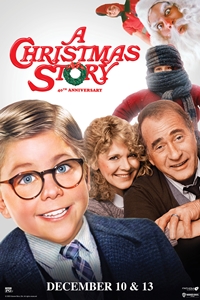 A Christmas Story 40th Anniversary
(PG)
Starring: Peter Billingsley, Melina Dillon, Darren McGavin
Directed By: Bob Clark
Genre: Drama , Program
Run Time: 1 hr. 43 min.
It's the final days before Christmas in early 1940s Cleveland, and 9-year-old Ralphie wants one thing from Santa more than anything else: a Red Ryder Carbine Action Air Rifle. As he trudges through the snow to school, faces the neighborhood bully and visits a malevolent department store Santa Claus, Ralphie connives, conspires and campaigns for the most fabulous Christmas present ever in this heartwarming, hysterical and sweetly nostalgic holiday film. Based on stories by Jean Sheppard.