Carol Burnett: A Celebration
()
CHOOSE LOCATION:
Saturday, April 22
Reserved Seating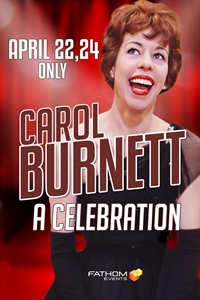 Carol Burnett: A Celebration
()
Starring: Carol Burnett, Tim Conway, Jim Nabors, Vicki Lawrence, Dick Van Dyke
Directed By: Steven J. Boettcher
Genre: Program
Run Time: 1 hr. 37 min.
Carol Burnett turns 90 in April, and this special birthday event celebrates a lifetime of great entertainment. Laugh out loud to classic clips, and hear Carol tell her favorite backstage stories. Follow Burnett's unparalleled career from her early breakout performances on Broadway to her hilarious turn on Garry Moore's variety show, to her own groundbreaking variety series - and her later highly-acclaimed dramatic roles. Special guests include Carl Reiner, who calls Burnett "the most talented human being in the world," Tim Conway, in his last interview, plus Vicki Lawrence, Betty White, Cloris Leachman, Phyllis Diller, Tony Orlando, Tina Fey, Jim Nabors, Barbara Eden, Tony Orlando, Joan Collins and Dick Van Dyke. Tell your friends you were there for Carol's big 90th celebration.