Louis Tomlinson: All Of Those Voices
()
CHOOSE LOCATION:
Wednesday, March 22
Reserved Seating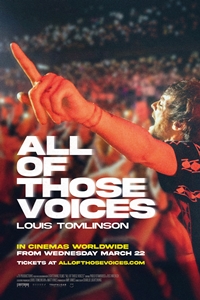 Louis Tomlinson: All Of Those Voices
()
Starring: Louis Tomlinson
Directed By: Charlie Lightening
Genre: Documentary , Program
Run Time: 1 hr. 44 min.
All Of Those Voices takes a refreshingly raw and real look at Louis Tomlinson's musical journey. Ditching the typical glossy sheen of celebrity documentaries, this film gives audiences an intimate and unvarnished view of Louis' life and career. Through never-before-seen home movie footage and behind the scenes access to Louis' sell-out 2022 World Tour, All Of Those Voices offers a unique perspective on what it's like to be a musician in today's fast-paced world. From the highs of superstardom to the lows of personal tragedy, Louis' story is one of resilience and determination. The film explores his journey from a member of One Direction to a solo artist, capturing the challenges and triumphs that defined his path. Since the acclaimed release of his debut album Walls and documenting the creation of his chart topping 2022 album Faith In The Future, the film shows a side of Louis that fans have never seen before, as he grapples with the pressures of fame and the weight of his own voice.