Journey to Bethlehem
(PG)
CHOOSE LOCATION:
No showtimes available
on this date.
No showtimes available
on this date.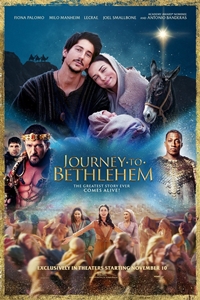 Journey to Bethlehem
(PG)
Starring: Fiona Palomo, Milo Manheim, Antonio Banderas, MORIAH, Stephanie Gil
Directed By: Adam Anders
Genre: Musical , Family
Run Time: 1 hr. 38 min.
A young woman carrying an unimaginable responsibility. A young man torn between love and honor. A jealous king who will stop at nothing to keep his crown. This live-action Christmas musical celebration for the entire family, weaves classic Christmas melodies into new pop songs in a music-infused retelling of the timeless story of Mary and Joseph and the birth of Jesus. A unique new entry into the collection of holiday classic movies, this epic Christmas musical is unlike any before it.