Raiders of the Lost Ark (2023 Re-Release)
(PG)
CHOOSE LOCATION:
Wednesday, June 7
Reserved Seating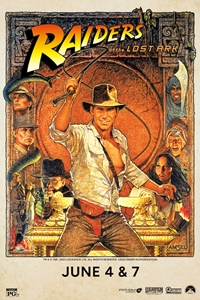 Raiders of the Lost Ark (2023 Re-Release)
(PG)
Starring: Harrison Ford, Karen Allen, Denholm Elliott, Paul Freeman, John Rhys-Davies
Directed By: Steven Spielberg
Genre: Action/Adventure
Run Time: 2 hr. 0 min.
Indy (Harrison Ford) and his feisty ex-flame Marion Ravenwood (Karen Allen) dodge booby-traps, fight Nazis and stare down snakes in their incredible worldwide quest for the mystical Ark of the Covenant.