The Metropolitan Opera: Nabucco
()
CHOOSE LOCATION:
Saturday, January 6
Reserved Seating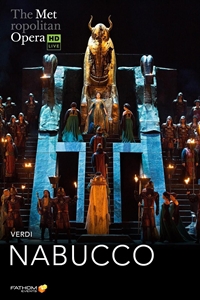 The Metropolitan Opera: Nabucco
()
Starring: Liudmyla Monastyrska, Maria Barakova, SeokJong Baek, George Gagnidze, Dmitry Belosselskiy
Directed By: Elijah Moshinsky
Genre: Program
Run Time: 3 hr. 5 min.
Ancient Babylon comes to life in this classic Met staging of biblical proportions. Baritone George Gagnidze stars as the imperious king Nabucco, alongside soprano Liudmyla Monastyrska, reprising her thrilling turn as his vengeful daughter Abigaille. Mezzo-soprano Maria Barakova and tenor Seok Jong Baek are Fenena and Ismaele, whose love transcends politics, and bass Dmitry Belosselskiy repeats his celebrated portrayal of the high priest Zaccaria. Daniele Callegariconducts Verdi's exhilarating early masterpiece, which features the ultimate showcase for the great MetChorus, the moving "Va, pensiero."