The Exorcist 50th Anniversary
(R)
CHOOSE LOCATION:
No showtimes available
on this date.
No showtimes available
on this date.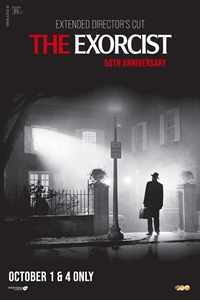 The Exorcist 50th Anniversary
(R)
Starring: Ellen Burstyn, Max von Sydow, Lee J. Cobb, Katty Winn, Jack MacGowran
Directed By: William Friedkin
Genre: Horror
Run Time: 2 hr. 12 min.
When a charming 12-year-old girl takes on the characteristics and voices of others, doctors say there is nothing they can do. As people begin to die, the girl's mother realizes her daughter has been possessed by the devil—and that her daughter's only possible hope lies with two priests and the ancient rite of demonic exorcism. This extended version contains an additional 12 minutes to the original theatrical version. As part of the Warner Bros. Studio 100th Celebration and to commemorate the 50th Anniversary of The Exorcist's theatrical release, Warner Bros worked closely with the director, William Friedkin, on the restoration of this iconic film. This newly remastered version was created from the original camera negative and features audio masterfully remixed by Atmos.