The Metropolitan Opera: La Rondine
(NR)
CHOOSE LOCATION:
Saturday, April 20
Reserved Seating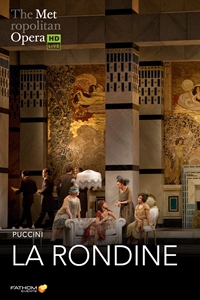 The Metropolitan Opera: La Rondine
(NR)
Starring: Angel Blue, Emily Pogorelc, Jonathan Tetelman, Bekhzod Davronov
Directed By: Nicolas Joël
Genre: Program
Run Time: 2 hr. 45 min.
Puccini's bittersweet love story returns to cinemas, with soprano Angel Blue starring as the French courtesan Magda, opposite tenor Jonathan Tetelman as Ruggero, an idealistic young man who offers her an alternative to her life of excess. Maestro Speranza Scappucci conducts Nicolas Joël's Art Deco-inspired staging, which transports audiences from the heart of Parisian nightlife to a dreamy vision of the French Riviera. Soprano Emily Pogorelc and tenor Bekhzod Davronov complete the sterling cast as Lisette and Prunier.