Saving Private Ryan 25th Anniversary
(R)
CHOOSE LOCATION:
No showtimes available
on this date.
No showtimes available
on this date.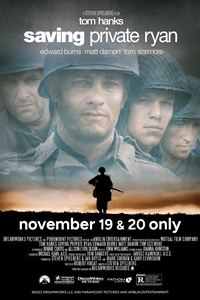 Saving Private Ryan 25th Anniversary
(R)
Starring: Tom Hanks, Edward Burns, Matt Damon, Tom Sizemore
Directed By: Steven Spielberg
Genre: War
Run Time: 3 hr. 0 min.
Internationally acclaimed by critics and audiences alike, Saving Private Ryan, directed by Steven Spielberg, is an unforgettable film achievement that has had a profound and lasting impact throughout the world. Winner of five Academy Awards® - including Best Director (Spielberg) - Saving Private Ryan also garnered two Golden Globe Awards for Best Motion Picture (Drama) and Best Director. In the last great invasion, of the last great war, the greatest danger for eight men - was saving one. The special 25th anniversary screening will include a "Boot Camp" featurette.  Go behind the scenes with Steven Spielberg and the cast of SAVING PRIVATE RYAN as they recount their memories of the grueling ten day boot camp they underwent to prepare for the film.