Christmas With The Chosen: Holy Night
()
CHOOSE LOCATION:
Tuesday, December 12
Reserved Seating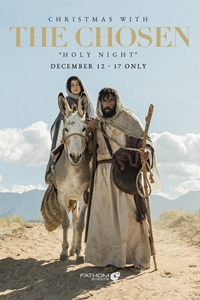 Christmas With The Chosen: Holy Night
()
Starring: Jonathan Roumie, Shahar Issac, Noah James, Liz Tabish, Paras Patel
Directed By: Dallas Jenkins
Genre: Program
Run Time: 2 hr. 5 min.
A young mother labeled impure. A shepherd boy considered "unclean." Experience Jesus' birth through their eyes as CHRISTMAS WITH THE CHOSEN: HOLY NIGHT blends The Messengers and The Shepherd into one special remastered and re-scored story. Plus, a never-before-seen performance from Andrea and Matteo Bocelli highlights seven musical performances and two beautiful new monologues.