CHOOSE LOCATION:
Friday, December 4
Reserved Seating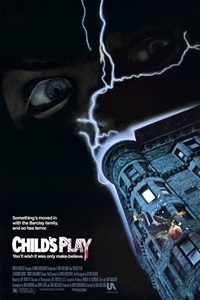 Starring: Catherine Hicks, Chris Sarandon, Alex Vincent, Brad Dourif, Dinah Manoff
Directed By: Tom Holland
Genre: Horror
Run Time: 1 hr. 27 min.
Gunned down by Detective Mike Norris (Chris Sarandon), dying murderer Charles Lee Ray (Brad Dourif) uses black magic to put his soul inside a doll named Chucky -- which Karen Barclay (Catherine Hicks) then buys for her young son, Andy (Alex Vincent). When Chucky kills Andy's baby sitter, the boy realizes the doll is alive and tries to warn people, but he's institutionalized. Now Karen must convince the detective of the murderous doll's intentions, before Andy becomes Chucky's next victim.