The Texas Chainsaw Massacre (1974)
(R)
CHOOSE LOCATION:
Friday, November 27
Reserved Seating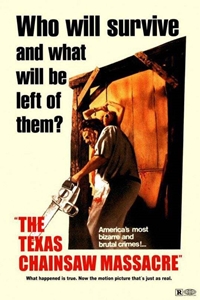 The Texas Chainsaw Massacre (1974)
(R)
Starring: Marilyn Burns, Allen Danziger, Paul A Partain, William Vail, Teri McMinn
Directed By: Tobe Hooper
Genre: Horror
Run Time: 1 hr. 23 min.
A group of teenagers on the road in Texas stop off at the wrong farm and encounter a family gone awry. Once abattoir workers, the decay of the Southern rural economy has left them unemployed, and the directionless father and sons take to using their butchering skills on passing people. One by one, the kids encounter members of the grisly family.