Halloween 3: Season of the Witch
(R)
CHOOSE LOCATION:
Friday, October 30
Reserved Seating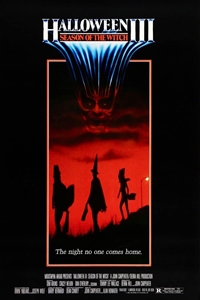 Halloween 3: Season of the Witch
(R)
Starring: Tom Atkins, Stacey Nelkin, Dan O'Herlihy, Michael Currie, Ralph Strait
Directed By: Tommy Lee Wallace
Genre: Horror , SciFi/Fantasy
Run Time: 1 hr. 38 min.
A terrified old man turns up in hospital, clutching a Halloween mask mass-produced by the Silver Shamrock Company, and screaming, "They are going to kill us!" When the man is then murdered in his hospital bed, and his killer calmly commits suicide, Dr Daniel Challis (Tom Atkins) starts to investigate the origin of the masks. This will bring him face to face with Conal Conhran (O'Herlihy) an insane toymaker with a horrifying plan to destroy the children of America...