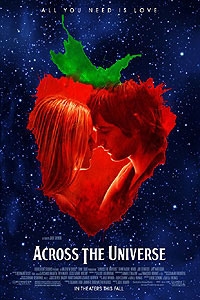 Across the Universe
(PG-13)
Starring: Jim Sturgess, Joe Anderson, Dana Fuchs, Martin Luther, T.V. Carpio
Directed By: Julie Taymor
Genre: Musical , Romance
Run Time: 2 hr. 11 min.
"Across the Universe" is a love story set against the backdrop of the 1960s amid the turbulent years of anti-war protest, mind exploration and rock 'n roll, moving from the dockyards of Liverpool to the creative psychedelia of Greenwich Village, from the riot-torn streets of Detroit to the killing fields of Vietnam. The star-crossed lovers, Jude and Lucy, along with a small group of friends and musicians, are swept up into the emerging anti-war and counterculture movements, with "Dr. Robert" and "Mr. Kite" as their guides. Tumultuous forces outside their control ultimately tear the young lovers apart, forcing Jude and Lucy--against all odds--to find their own way back to each other.
PLAYING AT:
No showtimes available
on this date.
No showtimes available
on this date.