Cloudy With a Chance of Meatballs
(PG)
CHOOSE LOCATION:
Tuesday, June 29
|
| Reserved Seating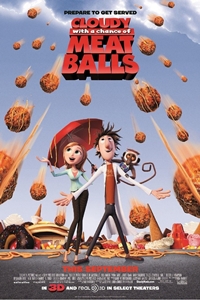 Cloudy With a Chance of Meatballs
(PG)
Starring: Anna Faris, Bill Hader, Andy Samberg, Bruce Campbell, James Caan
Directed By: Christopher Miller, Phil Lord
Genre: Animation , Family
Run Time: 1 hr. 21 min.
Columbia Pictures' and Sony Pictures Animation's "Cloudy with a Chance of Meatballs" will be the most delicious event since macaroni met cheese. Inspired by the beloved children's book, the film focuses on a town where food falls from the sky like rain.